Main content starts here, tab to start navigating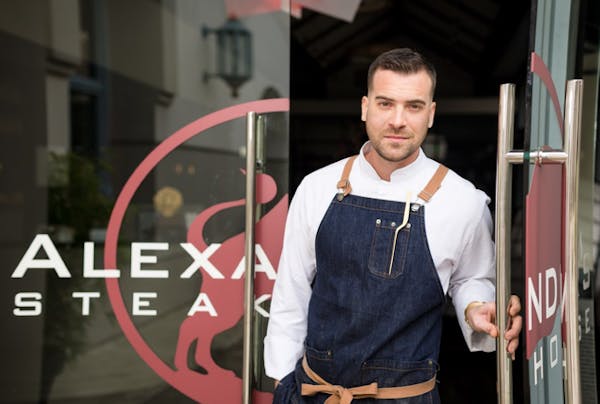 Florent Courriol
Executive Chef
Meet Executive Chef Florent Courriol. Chef Courriol began his culinary journey in traditional European style through a comprehensive, hands-on apprenticeship program in his home country of France. He hails from Arles, a small town in the Provence region, famed as the inspiration of many paintings by Van Gogh. Chef Courriol began his introduction to the love of cooking the old fashioned way; by spending time in the kitchen with his grandmother, preparing family meals with ingredients curated by his father, a hunter, and his uncles, all fishermen.
Chef Courriol trained under the guiding hands of notable Michelin rated chefs across the world. His mentor, Chef Jean-Luc Rabanel, Is the chef/owner of L'atelier – de Jean- Luc Rabanel, a two Michelin Star restaurant in Arles, France. Chef Rabanel instilled in him the love of creating food art from fresh produce.
Prior to finding a home at Alexander's Steakhouse, Chef Courriol spent the last 14 years traveling the world to experience different food cultures and techniques. Far-reaching restaurant destinations in Hong Kong, Moscow, Prague, Greece, Egypt, and Mexico have served to expand and sharpen his skills and knowledge. He brings with him a vast and impressive body of work that includes Amber in Hong Kong (Two Michelin Star), Hotel de Crillon under Chef Jean-Francois Piege in Paris (Two Michelin Star), L'atelier de Joel Robuchon in Paris (Two Michelin Star) and Hong Kong (Three Michelin Star), and as Executive Chef of the restaurant at the Ritz-Carlton in Moscow.
In his new role as executive chef, he is responsible for the daily operation of the kitchen but is emphatic that his primary goal is to assure that every guest expectation is exceeded from the moment they enter to long after they depart.
Chef Courriol's food philosophy is rooted in serving the very best of each season through a melding of both traditional and modern techniques. Says Chef Courriol, "I really like to respect what nature offers us…the respect of the season and the selection of the perfect ingredients to marry on a plate."